ENGLISH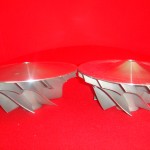 With immediate effect now also all HX82 model compressor wheels with 152 mm exducer diameter have undergone the new 'superback' design change, to improve their service life and reduce LCF failures.
Consequences are that next to the compressor wheels, also some other parts (diffuser and oil slinger) have to be replaced during modification or repairs.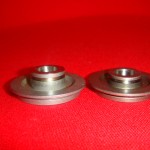 For further explanation see my earlier post of March 14 regarding a previously made similar modification on HX80 impellers.
This concerns all 151 mm exducer impellers, with the inducer sizes 92,50-95,00-97,50-100,00 and 102,00 mm (last 2 versions are better known as the 4″ and 4.1″ inducers, as used in many Superstock and some Truckpulling set-ups)
The partnumbers of the old design have been obsoleted and will be no longer supplied.
NEDERLANDS
Met onmiddelijke ingang zijn nu ook alle model HX82 compressorwielen met een bodemdiameter van 152 mm door het nieuwe ontwerp 'superback' vervangen, om de levensduur te verlengen en tevens beter bestand te zijn tegen LCF 'lage toeren metaalmoeheids' fouten.
Als konsekwentie hiervan dienen naast de compressorwielen tevens enkele andere onderdelen (compressorschild en olieslinger) te worden vervangen tijdens deze aanpassing of bij reparaties.
.Voor een nadere uitleg verwijs ik naar mijn eerdere bericht van 14 maart betreffende een identieke modificatie van HX80 compressorwielen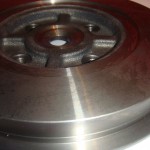 Dit betreft alle 152 mm bodemdiameter compressorwielen, met de inlaatmaten 92,50-95,00-97,50-100,00 and 102,00 mm (de laatste 2 versies zijn beter bekend als de 4″ and 4.1″ compressors, zoals gebruikt in vele Superstock en enige Truckpulling set-ups)
De onderdeelnummers van het oude ontwerp zijn vervangen en zullen niet langer meer worden geleverd.